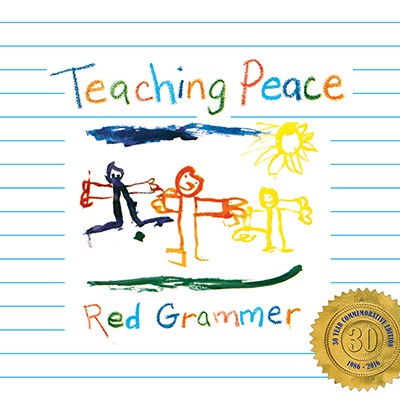 Teaching Peace Turns 30 - Online Features
Over the last thirty years you have brought Teaching Peace into your families and classrooms all around the world giving these songs life across four generations on six continents. Explore the following features to discover your stories and ours told in videos, photos and text.
The Teaching Peace "Memory Book" - your stories in words, pictures and videos from all over the world.
How It All Started - the story of how the Teaching Peace journey began.
Writing The Songs of Teaching Peace - video clips in which Red recounts the genesis of each song from the "clucks" of the Barnyard Boogie to the "activate what's under your hair" of Shake Your Brain.
The Stories Behind The Album Jacket Photos - the backstory to each of the wonderful photos on the inside of CD jacket.
Liner Note and Credits - updated notes on the Teaching Peace album and lists in the credits the wonderful collection of people involved in the making of this classic recording.
Lyrics - links to the lyric pages for each song where you can see and print out the lyrics, see any accompanying videos, learn the sign language for the song when available, and much more. Enjoy!
Save
Save
Save