Red Grammer Concerts and Residencies
Concerts
Critically acclaimed, Grammy-nominated recording artist Red Grammer consistently wins awards for his uplifting themes, clever lyrics and irresistible melodies. He has been featured on the Disney Channel, the Today Show and CBS This Morning and has performed at many of America's finest performing arts centers including the Ravinia Festival, the Kennedy Center, and Ruth Eckert Hall. In addition, he has brought his delight and inspiration to thousands of schools across the U.S. and abroad. Red can light up your concert hall or school with the following programs, or create a custom program designed to fit your needs.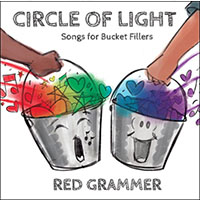 Circle of Light: Songs for Bucket Fillers
In this new show Red draws on songs from his award-winning album, "Circle of Light: Songs for Bucket Fillers", and employs music, role playing and illuminating stories to create a program that has received raves from teachers and administrators across the country. Whether you are already using the Bucket Fillers program or are new to it, this show supports a culture of happiness, love and thoughtfulness and is a powerful addition to your social skills/anti-bullying curriculum.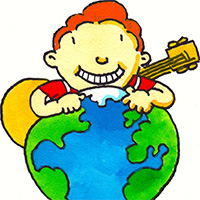 Hooray For The World!: A Celebration of Geography & Diversity

In this show Red and his audience playfully and joyously laugh and sing their way through rich diversities of landscape, food, language and music bringing the principles of physical and cultural geography vividly to life. Red's award-winning songs, personal photos and stories, and irrepressible wonder leave everyone a little more in awe of our amazing planet and the people we share it with.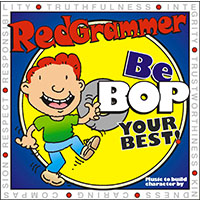 Bebop Your Best: Music To Build Character By
"Truthfulness", "Responsibility", "Kindness", "Fairness", "Integrity", "Citizenship"... have never sounded so good or been so user-friendly and fun as when Red gets his playful heart around them. Based on his Grammy-nominated album this show rocks, bops and swings us all to a place where we want to "Bebop Your Best!"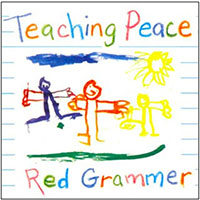 Teaching Peace: Songs of Caring, Conflict Resolution & Community
In this playful and engaging show "peace" lives and breathes...laughs and sings! Red's "Teaching Peace" CD has been called "one of the top five children's recordings of all time" by the All Music Guide and has won a Parents' Choice classic Award". This show is all that and more, live and in person!
Presenter Testimonials
Red Day Residency

With his "Red Day" residency this master entertainer/educator brings his messages of hope, caring and community to your school community for a whole day. Working with the students and staff during the daytime and then including the school's families in an evening Family Concert, a Red Day has the power to change the way every student, teacher and parent thinks about their school community.
Components of a Red Day:
1-2 School Concerts - A 45 minute concert featuring the songs that have captured the hearts of the school community.
2-3 Informances - Up close time for questions and answers, stories and songs for up to two grade levels at a time. Magic happens here.
1 Evening Family Concert - The children and their families come back for an evening concert with Red. The children get to perform their special songs with Red and the parents and siblings find themselves swept away in the powerful, positive energy of the day.

Preparing for a Red Day:
Red's CDs and Songbook/Teacher's Guide arrive in advance so that the school community can begin to be drawn into the magic and delight of his songs and catch the spirit of the messages they contain. Key people to involve in preparation are the music teacher, school counselor, classroom teachers, etc. Usually each grade level chooses a song to learn for the big day.
The Enduring Spirit:
The spirit of connectedness and community celebrated in Red Grammer's music reverberates in the hearts and hallways of the school long after Red is gone.

Here is what principals and teachers have to say about their Red Day Residencies:
"It was so wonderful to hear 900 students and their teachers sing along to words that help us all live a life that is positive and focused on doing the right thing.
After the school day was over, Red Grammer performed for our community with a concert at the junior high school. It was such a great night with parents, grandparents and students all singing along... I told the audience that night about the day and that this was just one of those days that I didn't want to end. It not only made a great impact on our students, but also the community." - Principal, Friendswood, Texas
"Red Grammer is a treasure and a gift! His visit to my school set a positive & unified tone for our entire school year." - Music teacher, Kamuela, Hawaii
"There have been so many posts on Facebook since Friday from parents and teachers about your visit. Our school needed something like this more than we knew." - Music Teacher, Curtice, Ohio
"Red's beautiful voice, his thoughtful lyrics, his enthusiastic smile, his interaction with the students, and his genuine love for the children of the world warmed our hearts." ~ Vice-Principal, San Leandro, California
For All Red Grammer Appearances Please Contact: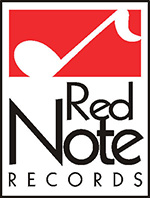 Save