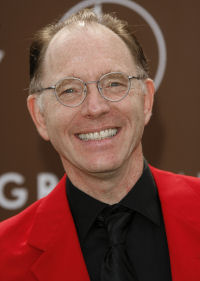 Dear Friends,
What an exciting Grammy® season we had. On December 8th we found out that "Bebop Your Best!... Music To Build Character By" was nominated for a Grammy! You can imagine how thrilled we all were. I enlisted the services of Andrew Freedman Public Relations and the whirlwind began in earnest. There were countless newspaper and radio interviews (see the terrific feature from the Wall Street Journal on the homepage).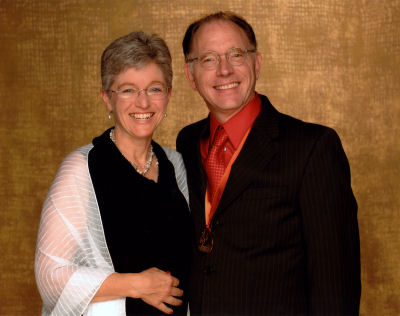 But the real excitement began when Patty Freedman asked me what I was wearing to the Grammy Awards. I told her that I hadn't given it much thought... though I knew that Kathy (my wife) and Maria (who runs Red Note Records), and Pamela (my co-writer on this project) had thought about what they were wearing. Patty said that it was "very important" and then asked me how brave I was. I very manfully replied that I was quite courageous. Then she said, "You have to wear a red suit. I want people to see you and ask, "Who is that in the red suit?'" I reluctantly said, "OK, but where will we find a red suit?" Patty said, "No problem. My relatives in Detroit own the store that supplies all the suits to the Temptations. Let me see what they can do." I gulped and said, "OK."
A couple of weeks later I got the call that the suit had arrived at the Freedman's office and I drove with Kathy down to Beverly Hills to "face the music". It certainly was red! I tried it on and looked in the mirror and said to myself…. "Not bad!" When I made my entrance into the office Kathy said, "Not bad!!!" (Translated that means, "Wow! I'm surprised how good it looks on you!) Likewise, Patty and Andrew thought it actually looked pretty darn good! Now I was committed.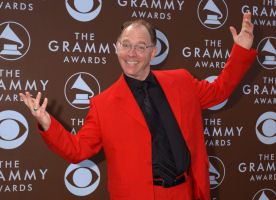 On Tuesday, February 7th, there was an elegant reception for the Grammy Nominees. I was told by everyone that this was the real heart and soul of the Grammys and it was indeed true. After the presentation of the 2005 "Lifetime Achievement" Awards we all were ushered into the reception hall where photos where taken, each nominee was given a Grammy Nominee medal, and we were feasted to the finest buffet I have ever had the pleasure of digging into! It was wonderful to see my friends Tom Paxton, Cathy Fink and Marcy Marxer, Tom Chapin, K.C. Porter, Tierney Sutton, and others there. We truly felt honored by our peers. Here's the picture of Kathy and I at the reception that was presented to us as a gift by the National Academy of Recording Arts and Sciences (NARAS).
Wednesday arrived and we set off for the Staples Center and the first business of the day– the Red Carpet. I was accompanied by my three lovely female partners in crime: Kathy, Pamela, and Maria, and three very hip young men: my son, Andy, and his two musical compatriots and friends, Devon and Drew. Patty Freedman had interviews set up along the carpet (actually green) which culminated in a photo barrage in front of the Grammy wall. Andy said that as I made my way through the gauntlet he actually heard somebody asking the security guard, "Who is that guy in the red suit?." Patty got her wish!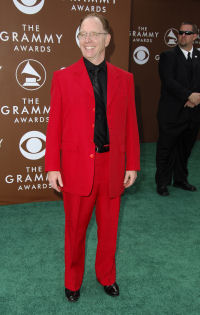 Then it was off to the afternoon ceremony where the lion's share of the awards are given out. As you know, we didn't win the Grammy… it went to "Songs from the Neighborhood" A Tribute to Mr. Rogers. It's wonderful that such a servant of children and families was honored in this way.
This was definitely an adult gathering, so as I was leaving the hall I was surprised to see a little girl standing amidst the swirling masses of people… and even more surprised when she came right up to me and asked in a tiny voice, "Red Grammer, could you sign this for me?" She was holding a copy of "Teaching Peace" in her outstretched hand. Any feelings of disappointment were swept away by a feeling a gratitude for the ability to do the work I have been able to do for the past 20 years and an overwhelming sense of how meaningful that work has been. (It turns out that her father had been nominated in the category of "Packaging design" and being big fans they had brought their CD along in case they ran into me. The Red Suit came in handy again!) Then….
Kathy and I are moving in a stream of humanity in through the VIP Lounge when twenty feet away Steven Tyler of Aerosmith catches a glimpse of me and as he comes by us going in the opposite direction purses up his lips and says, "Nice suit!"
So now I'm feeling very good!! Off we go to the Grammy Telecast and the Post-Telecast Reception. All very glitzy and loud! Of course, this isn't at all why we do what we do. But it was great fun. And besides, now I have this awesome red suit....