Red in China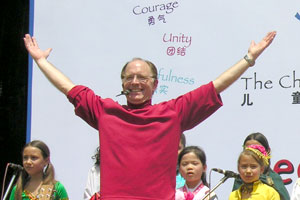 What follows are some highlights from 10 of the most amazing
and memorable days of my life...
It has always been a dream of mine to visit China. Our music has been used in English programs there for years and different organizations and schools have from time to time inquired about my coming, but nothing ever materialized.
So when Karyn Robarts of the Children's Virtue Development Project called from Beijing in early 2007 to finalize the arrangements for a Red Grammer concert tour there I was excited! The Children's Virtue Development Project develops curriculum for the teaching of virtues in elementary schools and was getting ready to launch pilot programs in kindergartens in specially chosen Beijing public schools.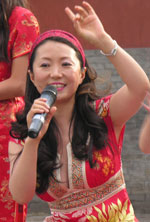 They wanted to do something special to kick it off and as they use our music in their programs, they decided to have me come and do concerts and appearances, including a special concert on the Great Wall of China for officials from the Department of Education and other VIPs and their families. They asked the Ambassador of their organization, Cheng Lin, if she would be willing to perform with me and act as an interpreter for me onstage. Cheng Lin is a huge star in China, starting as a teenage singing phenomenon, and going on to sell 25 million recordings in Asia alone. She is also a virtuoso of the erhu, a two-stringed, bowed instrument that has an indescribable, hauntingly beautiful sound. Lin very graciously agreed, instantly lending tremendous prestige and talent to the undertaking.
See and hear Cheng Lin playing the erhu on our duet of "See Me Beautiful" from the Red Grammer Great Wall concert.
I was sent the recording one of Lin's biggest hits, "Panda Mimi"- a song for the endangered Giant Panda, and with the help of a Chinese friend in California I learned the Mandarin words of the chorus. The excitement built until finally Kathy and I found ourselves flying to Beijing on May 21st, 2007. On the way I practiced my Mandarin with any of the Chinese passengers who would listen and when I sang the chorus to the Panda song everyone would shake their heads very excitedly.
---
May 21-Day One
We were met at the airport by the big smiles of children and parents from the Children's Virtue Development Project and the Family Learning House School. A huge banner, balloons, and a video crew made our luggage porter wonder who Kathy and I were! Despite the disorientation of our 13 hour flight and the 12 hour time change we were so happy to finally be in China! Karyn Robarts, always looking after our every need, whisked us away to the Kempinski Hotel, the exquisite European Hotel that would be our home for the length of our visit, and arranged for Kathy and I to get a massage! After a welcoming dinner with the team that made our trip possible we were off to bed!!
---
May 22nd
We awoke and began what would be for us a delightful morning ritual… availing ourselves of the amazing breakfast buffet at the Hotel Kempinski. There was an American breakfast with eggs prepared in numerous ways and various cereals; an European breakfast of sliced cheeses, meats, cucumbers, tomatoes, numerous hearty breads, muesli, and yogurts; and a Chinese breakfast of dimsum, numerous steamed dishes, soups and relishes; fruit and fruit juices of all kinds; and irresistible pastries. We ate at the buffet all but one morning of our trip and never ran out of new things to try! Buono Appetito!
Kathy, who has co-written most of the songs I perform, is a transformational counselor and was in great demand throughout our stay. Contacts in China had set up numerous workshops and sessions for her. On this day, like most others, she set off in one direction and I in another.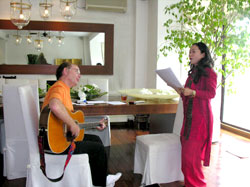 Off I went to meet with Cheng Lin and rehearse the songs we would be doing together in concert. Not only had she prepared an erhu solo for "See Me Beautiful", she had also translated the lyrics of "I Think You're Wonderful", "See Me Beautiful", "Listen", and others into Mandarin so that we could mix my English and her Mandarin together in our performance. What an honor!
That evening marked the observance of a Bahá'í Holy Day which gave us the opportunity to meet some of the Bahá'í's of Beijing.
---
May 23rd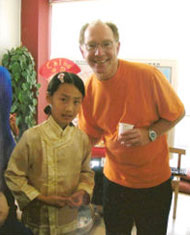 This morning I went to the World Cultures Day at the Family Learning House before heading over to set up for our first concert. Each grade in the school had chosen a different country to celebrate. As I went from booth to booth, the children, dressed in the garb of their chosen country, excitedly shared samples of foods from their nation and gave short presentations on different aspects of the cultures they had studied. Such fun!
My first concert was supposed to be held outdoors but as rain was threatening it was miraculously moved at the last minute to a beautiful performing complex nearby. What an afternoon! Children and teachers from numerous kindergartens, elementary schools and orphanages loved the show. As you can see from the pictures below, children from the Famiy Learning House joined Cheng Lin and and I in the performance.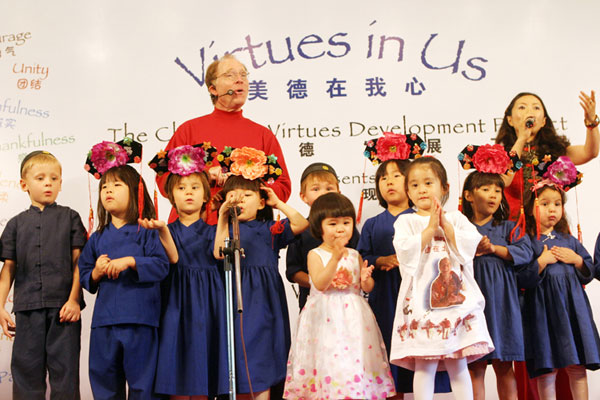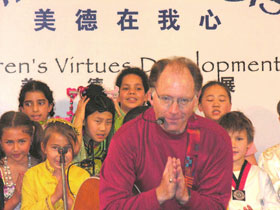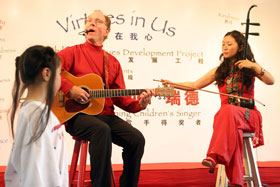 Whenever I perform overseas I'm always a little nervous singing to audiences whose first language isn't English. We songwriters tend to get attached to all the subtle jokes and wordplays that we've built into our songs. This concert powerfully reminded me that, no matter where we perform, the spirit of a song gets communicated through the music, the body language, and the communication of heart between the performer and their audience.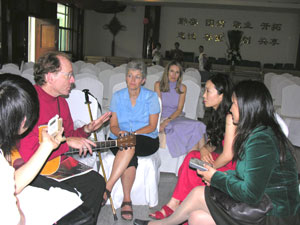 Afterwards during interviews with reporters from various Chinese magazines I had my first introduction to the passion with which many of the Chinese view the need to nurture virtues in children, especially in the face of the huge growth of materialism in China today. There is a great desire to ensure that the Chinese culture doesn't abandon it's emphasis on balance and honorable behavior in the face of all the rapid changes taking place in China today. The sincere hope and excitement that virtue education aroused was profoundly moving.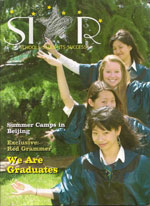 ---
May 24th – Liu Shi Kun-Wangjing Concert for kindergartens
Today's concert was at the Liu Shi Kun-Wangjing Kindergarten, one of a number of schools established by one of China's renowned classical pianists. He was a most gracious host.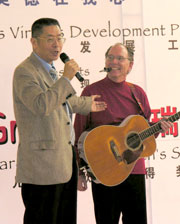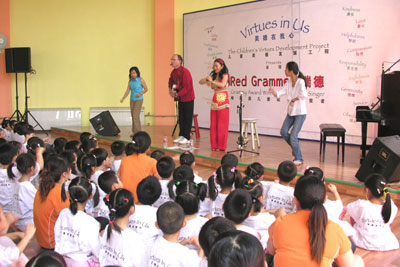 ---
May 25th
Today is a day off and our dear friend from the office of the Children's Virtues Development Project, Yina Lin, took us to one of Beijing's old hutong neighborhoods where we road through the streets in bicycle powered carriages. (You can see Yina Lin with the blue blouse in the picture above.)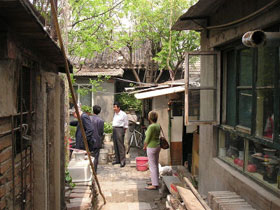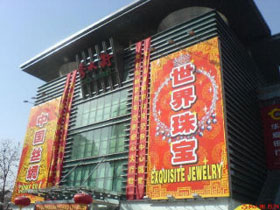 Then we went on to the Silk Mart where wimpy American shoppers like us are eaten alive everyday by some of the world's most skilled and aggressive sales people. It seems like everything is for sale here. After about a 1/2 hour I began to rise to the challenge and actually enjoyed the sparring! At one point in a move reminiscent of tag team wrestling one of the two saleswomen in a booth blocked my access to Kathy while the other backed her into a corner to close the sale. (Secret: never let on to a salesperson in the Silk Mart that you really like something… you will never be allowed to escape until you buy it!!!)
---
May 26th – Yang Fang Dian School Family Concert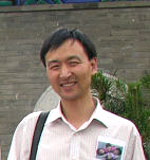 Today is Saturday and as we make our way across Beijing to the Yang Fang Dian Elementary School I wonder how many families will come back to school on a Saturday for our concert. As we approach the school I am delighted to see hundreds of children in their school uniforms accompanied by their parents streaming into the schoolyard. This is one of the schools that has been chosen for the pilot virtues program offered by the Children's Virtue Development Project. Prior to the concert I am formally introduced to the principals of all of the schools instituting the virtues curriculum. It is here that I first meet my dear friend, Xie Chunfeng, from the Research Center for Moral Education at the Beijing Academy of Educational Sciences. I feel that I have known him for many years. His smile and earnest kindliness tell me everything. I know instantly that I am in the presence of someone who cares deeply about children and is working to encourage the best in them.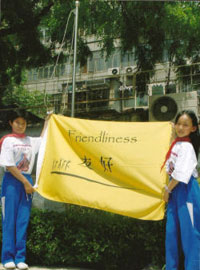 It is a very hot day and I worry for the children who are seated on the blacktop in full sun waiting almost a full hour before the start of the concert. The parents are seated close to the walls of the school building in a ribbon of shade. As we look out the window at the growing throng of students and family members my eyes are directed to 19 flag poles erected along the perimeter of the large school yard. These, I am told, are for the flags of each of the nineteen virtues that are featured in the virtues curriculum.
The formal proceedings finally get underway with the calling out in both Mandarin and English of the virtues followed by the solemn raising of their corresponding flags. Courage… Unity… Thankfulness… Love… Kindness… Happiness… Generosity… Helpfulness… Truthfulness… Courtesy… Friendliness… on and on it goes. This is repeated nineteen times and by the end I am in tears.
The concert begins and on this hot Spring day in Beijing we all celebrate together who we are and who we can become.
There is a chorus of children who have learned the words in English to "I Think You're Wonderful". They sing it beautifully!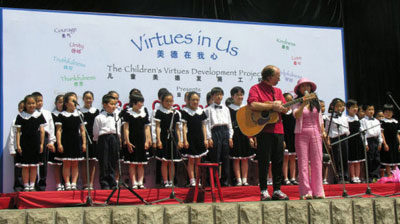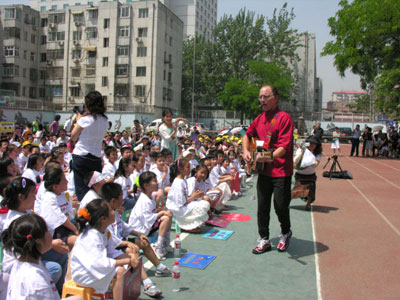 Before I tell you about the after concert luncheon I would like to quote translated excerpts from some of the letters sent by parents to the school after the concert. They capture something of the quality of heart that I found so endearing in the people of China….
"On a bright sunny weekend morning, I accompanied my child to participate, in a curious and joyful frame of mind, in the "Virtue in My Heart" performance activity of the moral character education course organized by the school…
…in the course of the activity, the whole sight was just like a happy sea. On and off the stage, adults, children, Chinese, foreigners, men, women, boys, girls, people of all kinds of skins and speaking all kinds of languages and all kinds of performances set off each other brilliantly. Parents seemed to have returned to their childhood. Children seemed to have grown up a lot — knowing how to express "hello" in languages from all over the world and how to communicate with each other with sign language…"
"On May 26, 2007, as a parent...I was fortunate to be invited to participate in the "Virtue in My Heart" activity held by the school. The "heated scene" made all the parents and children and me forget the hot weather and participate in the activity whole-heartedly. I felt that my heart was cleansed. I experienced virtue, understood virtue and also accepted virtue.
After the completion of the activity, I communicated with my child. As a "Happiness" color-bearer, he was very proud that he had successfully completed the task of raising the flag and completely remembered the 19 virtues (including English). He also deeply loved lively and humorous Mr. Red and Ms. Cheng Lin with a beautiful voice. In whole-hearted participation, in hearty laughter, in beautiful singing and in absorbing interaction, the child experienced virtue directly and understood virtue subtly. The seeds of virtue have been planted in his heart. I expect that they will take roots, shoot up and bear fruits."
"…on the morning of the day before the activity, when we had breakfast together, my son said to me, "Mother, I really want you to participate in this activity together with me, to see the performance of our choirs and to hear the singing of a foreign singer. Cheng Lin, a famous singing star, will also take part in this performance." At the sight of his childish expression, I felt that he revealed a kind of yearning. So I resolutely consented to hisrequest.
On May 26, 2007, as my son was going to participate in the singing choir, he got up very early and made all kinds of preparations excitedly and quickly. When he was about to leave home in his performing costume, he said to me, 'Mother, remember to take the camera with you'.
…when the headmaster announced the start of the concert, Mr. Red, a famous American singer for children, and Ms. Cheng Lin, a famous Chinese singing star, showed up on the stage amidst the warm applause of the entire congregation. The performance was very successful, with enthusiasm and a friendly atmosphere overflowing from beginning to end. People on the stage and the audience off the stage interacted naturally and harmoniously; Mr. Red sang humorously and light-heartedly; Ms. Cheng Lin sang beautifully and nicely; the smart presentation and explanation on site were done properly and rightly; the two performers cooperated with each other very well…
Virtue is in my heart, and virtue is in everyone's heart, regardless of age or nationality.
…Through today's activity, I also felt the prevalence of virtue in Yangfangdian Central Primary School: I hope "virtue" will be forever nourishing children's heart like raindrops."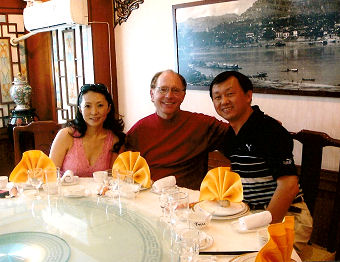 After the concert the principals and other honored guests walked to a nearby restaurant where because of performing in the hot sun I drank copious quantities, to everyone's great delight and approval, of a soy beverage that I afterwards discovered was actually quite expensive. The hosts never batted an eye. Here I got to have a memorable luncheon with Tiedao Zhang, PhD, the vice-chancellor of the Beijing Public Schools. He did his higher education in the U.S. and spoke perfect English. He was commenting on how he thought that all of the truly great and enduring songs in the world were based, in some way, on a virtue. Then he turned to me and sincerely said, "You have dedicated your life to nurturing the inner life of children." It is one of the highest compliments I have ever received.
The food was wonderful and never ending. At some point Tiedao and I sang "Bridge Over Troubled Waters" together. As I recall he was Simon and I was Garfunkel. Then one of the the other participants got up and sang a song from the village she was raised in. What a day!
Afterwards we returned to the hotel to gather what we needed for our trip to the Great Wall north of Beijing. We were going this evening to prepare for our concert on the Wall tomorrow.
---
May 27th – Great Wall Concert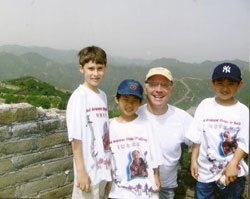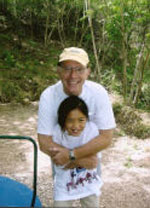 We arrived last night and were the guests of Zhang Xin and Mr. Pan, our gracious hosts at the Soho Hotel in the shadow of the Great Wall. After breakfast their two sons; Karyn's husband, Adam & son, Tallis; and I hiked up a trail that gave access to the Wall. In this picture of us that Adam took you can see the Wall meandering off over my shoulder into the distant mountains. The vastness of it is astonishing. We walked for probably a mile along the top of it, past turrets and through guard towers… each brick made and laid by human hands. It overwhelms the imagination.
After a special lunch of Peking Duck and a quick tickle of Karyn's daughter Sian… it was off to prepare for the concert.
The location for the event was on a section of the Great Wall where it comes into a village.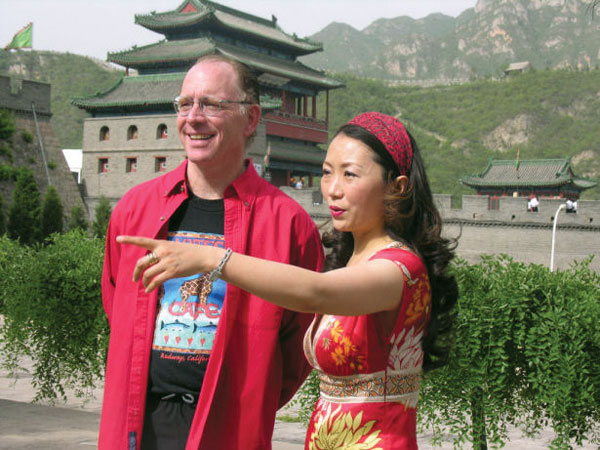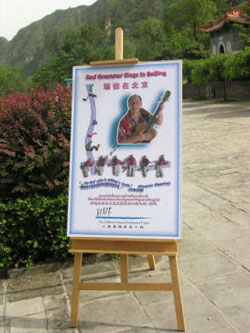 There where the Wall spreads out into a plaza a stage was set up on the steps of a Temple dating back to the 1400's. Looking out over the audience I could see the Great Wall winding its way to the eastern horizon. Behind me the Wall climbed steeply up the mountain and beyond. You can get a feeling of the location when you watch the video of "Somewhere Over The Rainbow". It was one of the most spectacular settings to sing in that I have ever known. How could I as a 5th grader sitting on the edge of my bed, learning to play the guitar, ever have imagined I would one day be singing on the Great Wall of China?
Here we are doing the sign language for "Hello World"…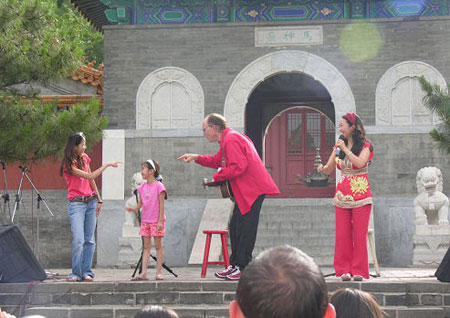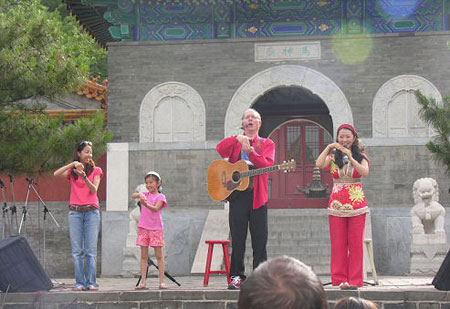 Cheng Lin blessed us all with a beautiful piece on the erhu and I joined her for our joint rendition of "See Me Beautiful".
See and hear "See Me Beautiful"!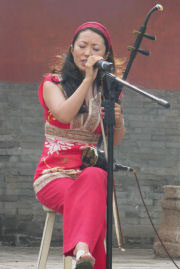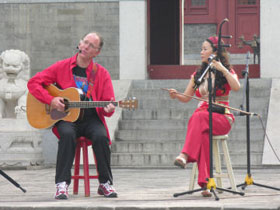 Then the children from the Family Learning House joined us again for a couple of songs.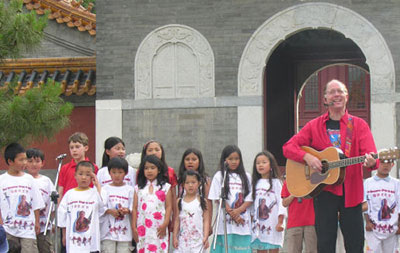 During this concert I tried to use the Mandarin word for "tickle" to introduce the "Tickle Song" and everyone started laughing. It turns out the word I said was close to the word for "tickle" but was actually the word for "sheep". It was very funny!
Here are a couple of pictures of Cheng Lin's daughter, K'er, and I enjoying one of her mother's songs.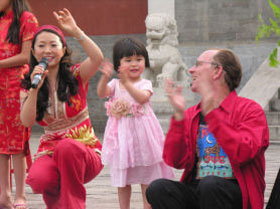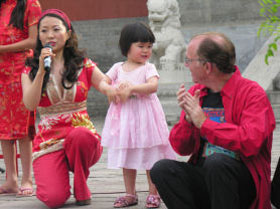 It was a day I will never forget spent in a matchless location with treasured friends!
Here I am after the concert dropping rose petals on Karyn Robarts and Cheng Lin.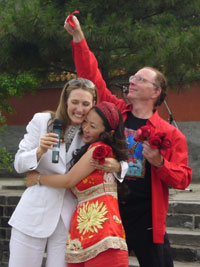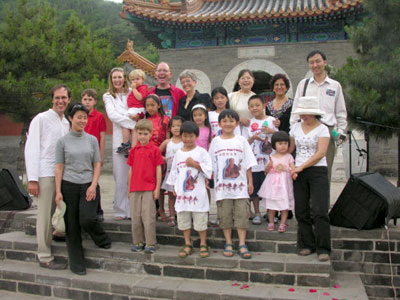 Here are some of our many special friends after the concert posing for a picture with us.
After the concert we drove back to Beijing full of joy and complete satisfaction!
---
May 28th – Teda International School

This morning we find ourselves heading south out of Beijing to the Teda Economic Zone where I will be performing a concert at the Teda International School. It is about a three hour drive on the freeway and is our first long drive outside of Beijing. I am eager to see the landscape which unfolds as flat and open with many fields. The Teda Economic Zone is the home to the Chinese headquarters of numerous multinational companies. The Teda International School serves a mixture of Chinese and international children. They have been using our music for many years here and the concert is a rousing success! At the conclusion of the concert they present me with an erhu. It is such a sweet gift and I am very touched. Our time in Tian Jin Teda is too short and before long we are in the car heading back to Beijing. Tomorrow is our last full day in China. (I must add a note of thanks here to our driver, Zhang Hongliang, who so conscientiously drove us everywhere. The care and kindness he showed us throughout was deeply appreciated.)
---
May 29th – Pearl Mart, Children's Day TV Special at the Beijing Children's Hospital
One of Kathy's dear new friends in China is Sheedvash Farid. Sheedvash has set up all of Kathy's talks and workshops. She moved to China many years ago and besides being fluent in Mandarin is deeply integrated into Chinese society. She offers to take us to the Pearl Mart where one of her close friends has a shop. The Pearl Mart is like the Silk Mart in that it has many, many things for sale. But it is for the pearls that we have come. I watch Sheedvash, her friend, and Kathy create necklace after necklace of stunning pearls and stones and I revel in the excitement these three women share in the beautiful pieces of jewelry that result. I have a bit of concern about the possible cost but can't interfere with the magic I am watching. When the bill is tallied up I think I must be dreaming for it barely seems possible that all of these lovely matching necklaces and earrings could be purchased for so little.
Meanwhile Cheng Lin has arranged for me to be part of the Children's Day special broadcast of China's most popular music television program. It is being shot tonight at the Beijing Children's Hospital and will air on June 1st as part of the Children's Day festivities. We arrive in the late afternoon. It is decided that I will join Cheng Lin onstage after her number and perform a medley of "I Think You're Wonderful" and "The Barnyard Boogie".
Some of the most popular singers in China are here to perform for the show. Cheng Lin introduces me to them all. One would never guess that when the cameras roll it will be for an audience of 100 million viewers. There are no prima donnas, no posturing. Everyone is friendly, comfortable and relaxed.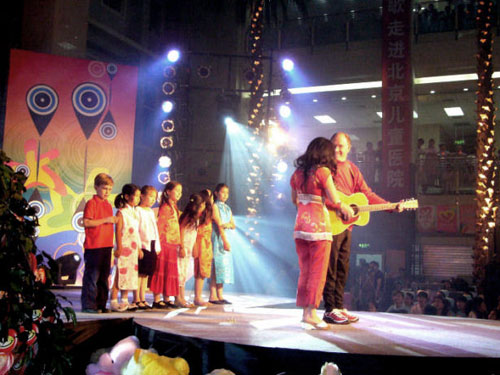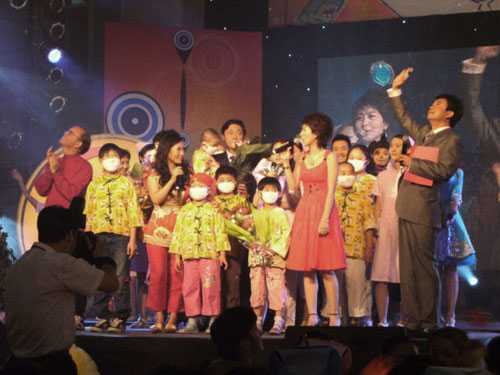 It takes place in the spacious atrium of the hospital, an open space that rises five or more stories in the center of the building. Hundreds of nurses and those children able to leave their beds fill the bottom floor as well as the railings of each floor rising above. It is a festive, joyful evening and once again I am swept into something wonderful. Watch the segment featuring Cheng Lin and I.
---
May 30th – Departure
Our last day in China is marked by visits of friends and acquaintances and a final meal with some of those who made this wonderful trip possible.
We have been treated like royalty and given every opportunity to share the fruits of our work of many years with the people of China. I can't remember a ten day period in which my gifts and talents have ever been put to such good use. I look forward with longing to my next trip to this wonderful country.
There are so many people to thank: YiNa Lin, Melody Qu,Zhang xin, Mr. Pan, Adam Robarts, Sheedvash Farid, Zhang Hongliang, Deng Sheng, Xie Chunfeng, Tiedao Zhang, and many others... But finally I wish to dedicate all of this with great love and appreciation to two incredible women – Karyn Robarts and Cheng Lin. Thank you with all my heart!